Annual Institute of Missions
AIM 2018 June 10-15
If you have never attended the Annual Institute of Missions (AIM), we encourage you to make plans to be a part of a life-changing week.  Perhaps you have never considered AIM or have planned to attend "one of these years."  Let us answer a few questions that may help you make this year the time to join us.
Who attends AIM?  Historically, the week has been a candidate school for new missionaries applying to FBWWM.  In recent years, this has expanded to include a greater time of enrichment and encouragement for furloughing veterans, instruction for pastors and other full-time workers, sound preparation for church planters, foundational teaching for Bible college students, as well as a time of tremendous inspiration and motivation for any serious Christian.
What is taught during AIM?  The classes and instructors vary from year to year.  There are classes on finances, taxes, retirement, and insurance.  There are a variety of preparatory classes including such subjects as deputation, prayer letters, visual presentations, field preparation, language study, culture adaptation, and effective furloughs.  Highlights of the week include detailed sessions on Biblical church planting, the pastor/missionary relationship, as well as classes from different perspectives taught by men and women with many years of experience in the pastorate and on the mission field.
Why attend AIM?  Many reasons could be emphasized, but we would like to stress one vital element: each year we witness the Holy Spirit working in individual lives through the teaching, preaching, and testifying of other individuals.  Throughout AIM, you can spend 26+ hours of time with Spirit-filled workers, some of whom are near the end of the race, others who are in the midst, and some who are just beginning.  Over and over, you will witness – through testimonies around the dinner table, from instruction in the classroom, and from the preaching from the pulpit – how God can and will lead and use YOU!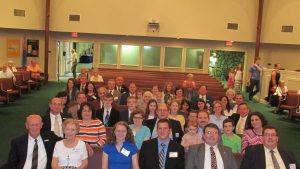 AIM Class Descriptions 2018
Let Us Know Your Coming to AIM